LOADING....
Local Specialties
Guests at Shirouma-so have the opportunity to experience the home cooking of the owner (Mother, or "Okami-san") of the inn, who was born and raised in Hakuba.

We hope that you can relax and enjoy some of the homemade dishes passed down through the generations in this village, and the seasonal bounty of the foods of the Hakuba region.
Dining Room
Dinner and breakfast are served in the dining room.
Shirouma-so has many return guests, so our staff always enjoy welcoming you back, and having light conversation during meals.

A limited number of places are available for our evening meals. As such, we ask that you be aware in advance that there may be occasions when we are unable to take your dinner reservation.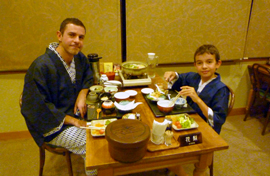 Hours
Breakfast 7:00–9:00 Dinner 18:00–20:00
Children's menu
We have a special menu for children younger than 12 years old.
For vegetarians and people with allergies
Please contact us in advance.