LOADING....
Front Building
Each of our Japanese style tatami rooms was designed individually, giving each its own unique and relaxing atmosphere.

The south-facing rooms on the second floor offer a view of the Northern Alps, accentuating the feeling of being in a mountain resort.

We invite you to indulge in the kind of relaxation unique to traditional Japanese architectural space.


Annex
From the large windows in all the rooms on the 2nd and 3rd floors of the Annex you can enjoy panoramic views of the Japanese Alps.
Please enjoy the beauty of the magnificent peaks to your heart's content.
There is poetry even in names of the guest rooms: alpine flowers in the case of the front building, traditional names for colors from the Japanese poetry collection "Manyo-shu" in the case of the annex.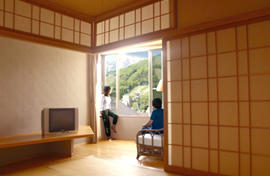 Room Amenities
Facial towel, bath towel, toothbrush, toothpaste, yukata (light kimono), TV, telephone, high-speed WI-FI (free), air conditioner, hot water pot, safety kit, sink, toilet (all rooms have washlet toilets)
Room with bath (showers)
The rooms named [Karin] and [Azami] (in the Front Building, 2F) have showers in the room.
*Please note that all of our rooms have their own toilet and sink.
Private shower room
Two private shower rooms are available for our guests to use 24 hours a day. These showers are located on the first floor in the Annex.
Showers are also located within the onsen bath room, and are available for use during bath hours (6-9 a.m. and 3-11 p.m.)
Party Room
A large Japanese 30-tatami-mat room (Please contact us in advance for reservations.)